Premier Choice For Ultrasound Lipo
---
Make real changes by choosing the ultrasound lipo and cavitation services provided by Flawless Advanced Beauty, based in Rhonda Cynon Taff near Cardiff. These services are ideal for dealing with stubborn fat, and we make the process simple and straightforward. Discover more about these services and commit to change by calling us today.
How Does It Work?
---
Ultrasound waves are emitted into the fat cells, causing the cells to essentially vibrate and implode. Over the course of the next few weeks, the broken-down fat cells then pass through the lymphatic system and leave the body by natural means. The treatment will last approximately 30 minutes, although the length of time does depend on fat tissue density.
Results to Expect
---
Results can be seen within the first few days after the treatment. One session often results in up to a 5cm reduction in the layer of fat. However, you may require multiple treatments for optimal results, depending on the layer being treated. Each session is conducted no more than 3 days apart, and this ensures the cells don't reabsorb the fat.
You must drink plenty of water when undertaking treatment, as this will help metabolise the glycerol and fatty acids released from the fat cells. Healthy eating is advised during and after treatment in order to maintain results.
It is also important to refrain from consuming any alcoholic substance until three days after your treatment. This will enable your liver to remove fats more effectively without prioritising the metabolism of alcohol, which could impede results. *
This can also be combined with radio frequency skin tightening to tighten skin while melting fat at the same time for people wanting to improve skin at the same time. Click here for more info.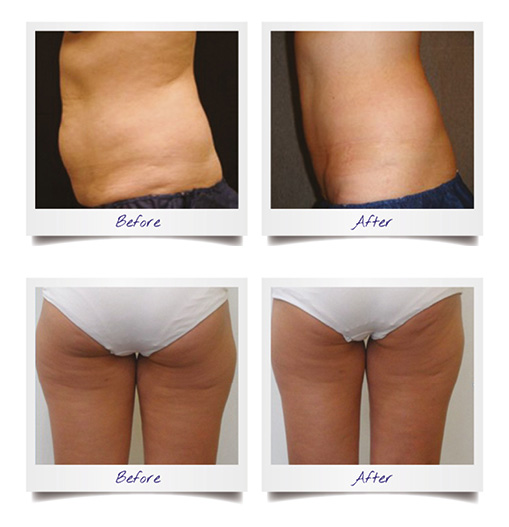 The difference between ultra sound lipo and fat freezing
---
Both these treatments are non invasive and effective with the disruption of fat.
Ultra sound results can be seen faster, where as fat freezing results may take longer to achieve and are only noticeable about a month plus after the treatment.
Ultrasound requires more sessions (recommend a course of 6-12 at 2 appointments per week ), whereas fat freezing is usually a one-off treatment.
Ultrasound will help remove your excess fat similar to dieting but the fat cells remain, whereas Fat freezing will destroy the actual cells, with the end result lasting longer.
Prices
---
| | |
| --- | --- |
| 30 Min x 1 Session | £60 |
| 30 Min x 8 Sessions | £420 (saving £60) |
| 45 Min x 1 Session | £77 |
| 45 Min x 8 Sessions | £539 (saving £77) |
* Disclaimer: Results may vary from person to person.